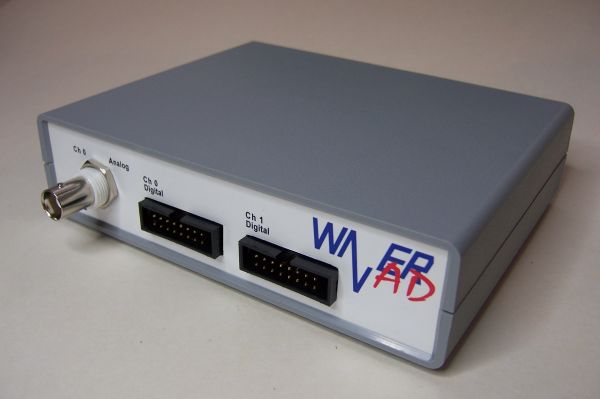 arbitrary signal-generator

arbitrary function-generator

arbitrary waveform-generator

arbitrary logic-pattern-generator
... all in one device!
KE-System WaverAD is an arbitrary signal-generator system built for people who are looking for full flexibility however cannot spend huge amounts of well-earned money for a full-featured high-end signal generation system.
Here are some basic facts about WaverAD:
Arbitrary Waveform-Generator and Logic-Pattern-Generator in one
USB Peripheral for Windows PCs
Up to 100MHz sampling rate
Frequency, Amplitude, Offset online adjustable
3,3V and 5,0V logic level integrated - more possible via extensions
8 pages for different individually programmable signals, online switchable
Single Step, Single Run and Continuous Run Modes
Manually and externally triggerable
Extendable via external Extension modules (interface is documented)
Intuitive Software-Interface with a powerful waveform calculator
Multiple WaverAD can be used in parallel to multiply number of channels
Interested in more? Continue on our WaverAD products page.